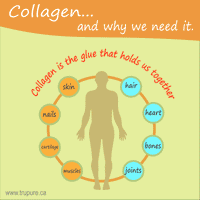 Fact: COLLAGEN IS AN INTEGRAL PART OF OUR BODY
As the main component of connective tissue, Collagen is the most abundant protein in our body; making up 25% to 35% of the whole-body protein content. Collagen consists of amino acids and is found in fibrous tissues such as tendons, ligaments, and cartilage. It is also found in our skin, hair, muscles, bones, blood vessels, heart, nails, etc.[1]
In fact, Collagen is an integral part of our very being.
As we age, our body's ability to produce Collagen decreases. Resulting in wrinkling skin, lean muscle loss, joints and cartilages degeneration etc.
Taking Collagen supplements helps to boost collagen levels in our body. It helps to delay the aging process of our body.
Know your Collagen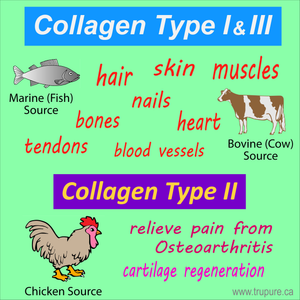 Not all Collagen are the same.
It is important to note that different types of collagen are used to address different needs. Studies prove that Collagen Type I & III (typically sourced from fish or bovine) should be taken if the objective is to reduce wrinkles, improve skin complexion, maintaine healthy hair, nails, bones and overall well being. If the objective is to reduce joint pain associated with Osteoarthritis, and to delay the degeneration of joint cartilages, then Collagen Type II (usually derived from chicken sternum cartilage) should be taken.
Read More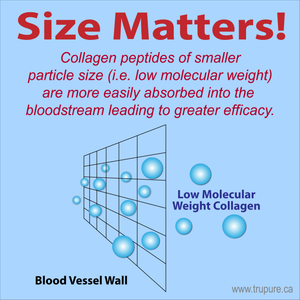 Collagen with low molecular weight is better.
Studies proved that hydrolyzed collagen peptides with low molecular weight (ie. ultra fine particles) are more readily absorbed into the blood stream after consumption.
On the other hand, the following happens to Collagen peptides with higher molecular weight, 1) due to its larger size, the rate of it being absorbed into the blood stream is lower.
2) Collagen peptides not absorbed into the body in the early stage of consumption enter the stomach and are digested as normal proteins, thus not achieving its objective.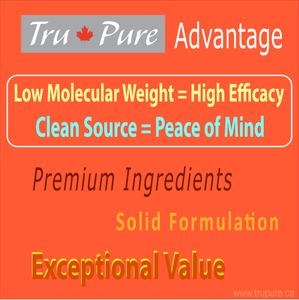 The TruPure BioActive Collagen Difference - Low Molecular Weight.
Produced using Enzymatic process, the Hydrolyzed Marine Collagen petides used in our Bioactive Marine Collagen + Beauty Formula, weight a mere 500 Dalton. The Type II Chicken Collagen used in our Bioactive Collagen + MSM has a molecular weight of 1100 Dalton. These are significantly lower than other collagens in the market typically weigh more than 3000 Dalton. As for collagen derived from bovine, the molecular weights are even higher, typically between 5000 to 10,000 DA.
Lower molecular weight = higher efficacy.
Another important point to consider when choosing a Collagen supplement, is the source of the Collagen. Many marine (fish) Collagen in the market, are derived from farmed fish, which may contain hormones, GMO, antibiotics, parasites or diseases.
We only use Collagen sourced from the scales of wild caught deep ocean fish, it is the most clean type of Collagen. When you consume TruPure's BioActive Marine Collagen+, you can have the peace of mind, knowing that it is free of GMO, hormone, antibiotics, parasites or diseases.
Clean source = Peace of mind.
Read More